What is the Learning Hub?
This website hosts a variety of free Tobii Dynavox on-demand trainings that enable users to earn ASHA CEUs. Additionally, we offer a variety of on-location trainings and webinars which can be found on both the Tobii Dynavox
training page
and Goboardmaker
training page
.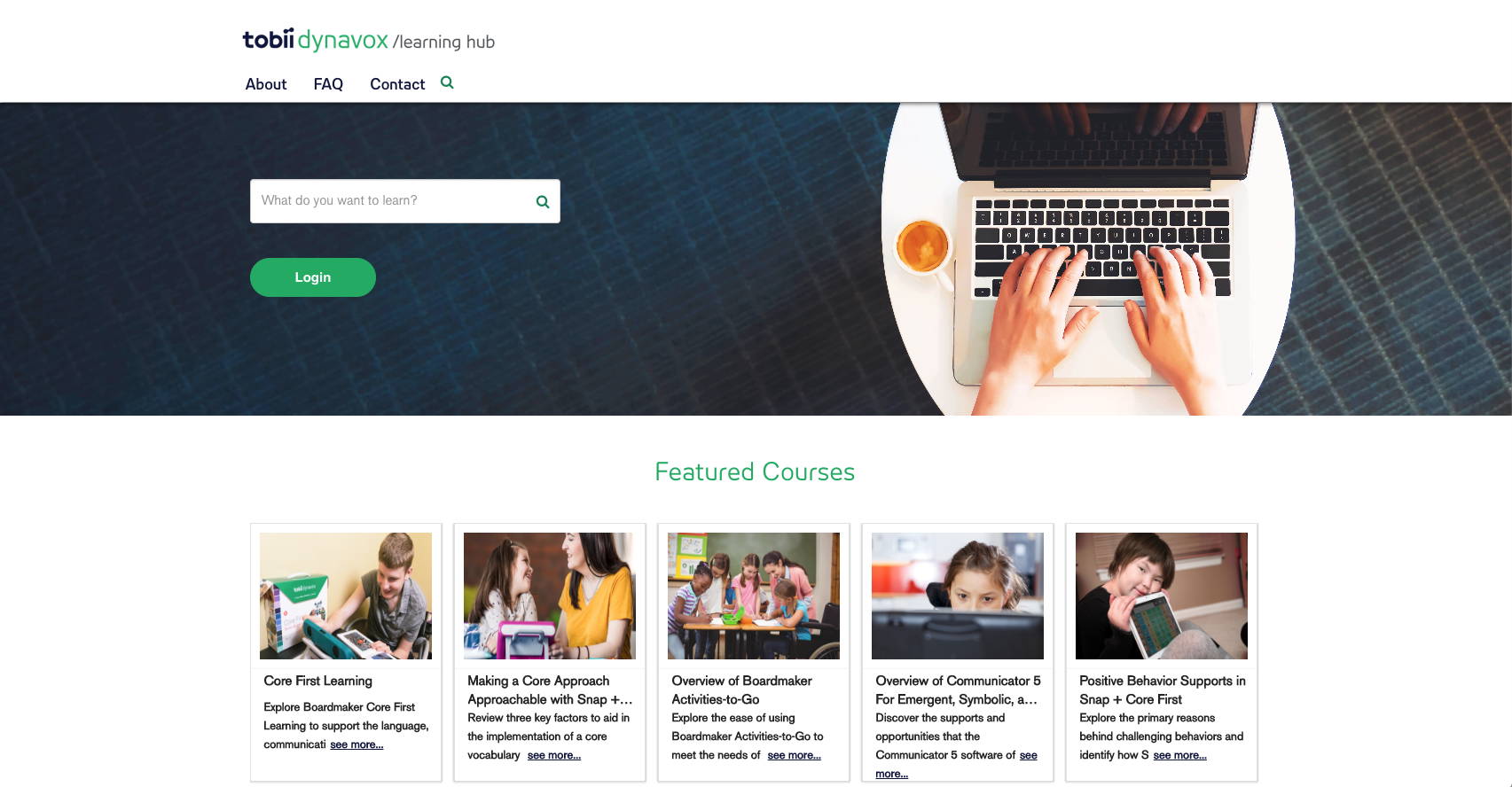 What are ASHA CEUs?
The American Speech-Language-Hearing Association (ASHA) Continuing Education Unit (CEU) is a nationally recognized standard unit of measurement for participation in a continuing education (CE) course.
60 minutes of participation in an organized CE experience offered by an ASHA approved provider, excluding meals and breaks, equates to 0.1 ASHA CEUs. This includes the interaction between a learner and instructor or between the learner and materials that have been prepared to facilitate learning. For more information on ASHA CEUs, visit here.

How do I create an account?
When you click on the login button on the home page, you will be taken to the Tobii Dynavox Single Sign On (SSO) page. Here you can log in with your existing SSO account if you have previously created one for one of Tobii Dynavox's other websites, or you can create a new account.
Keep in mind that the e-mail address you register with SSO will be what is associated with your Learning Hub profile. If you opt in to earn ASHA CEUs for your training, this is also the e-mail address that Tobii Dynavox will report to ASHA.
Want more information? Check out our SSO User Guide for the Learning Hub.

AAC and Aphasia
Learn when AAC could be introduced, about specific AAC supports, and how they can benefit people with Aphasia. (30 minutes | 0.05 ASHA CEUs)

Boardmaker Picture Communication Symbols: When and How to Use Them
Learn benefits and best practices of using Boardmaker Picture Communication Symbols to support early communicators. (30 minutes | 0.05 ASHA CEUs)

Core First™ Learning
Explore Boardmaker Core First Learning to support the language, communication, and literacy development of your students. (60 minutes | 0.1 ASHA CEUs)

Creating AAC Assessment Opportunities for Symbol-Based Communication
Augmentative and Alternative Communication (AAC) assessment is about finding the AAC supports that will help your client communicate more independently. (60 minutes | 0.1 ASHA CEUs)

Defining Scanning Technology
This course is the initial offering of a series of trainings focused on switch scanning with AAC. (60 minutes | 0.1 ASHA CEUs)

Explore Computer Control
Discover how Computer Control provides easier access to computer functions using eye gaze. (30 minutes | 0.05 ASHA CEUs)

Explore Snap™ + Core First®
Gain an overview of Snap + Core First for both emergent and experienced communicators. (60 minutes | 0.1 ASHA CEUs)
Getting Started with Pathways for Core First
Explore Pathways for Core First and discover how this free app can help to support communication and language development. (30 minutes | 0.05 ASHA CEUs)

Introduction to Access
This course explains the importance of access for Augmentative and Alternative Communication (AAC) users, introduces the types of access methods, and describes how each type addresses AAC users' needs. (30 minutes | 0.05 ASHA CEUs)

Introduction to Gaze Viewer
Learn how to leverage Gaze Viewer with individuals who require AAC. (30 minutes | 0.05 ASHA CEUs)

Journey into Eye Gaze for Communication
Explore how setting expectations, set-up, exploration and evaluation are important points along the journey to using eye gaze to access communication. (30 minutes | 0.05 ASHA CEUs)

Make it for Math in Boardmaker Online
Explore how to create and find engaging math activities using Boardmaker Online. (30 minutes | 0.05 ASHA CEUs)

Making a Core Approach Approachable with Snap + Core First and Pathways
Review three key factors to aid in the implementation of a core vocabulary approach to increase communication success for those using AAC. (60 minutes | 0.1 ASHA CEUs)

Overview of Boardmaker Activities-to-Go
Explore the ease of using our free Boardmaker Activities-to-Go to meet the needs of a diverse classroom or within the therapy environment. (60 minutes | 0.1 ASHA CEUs)

Overview of Communicator 5 for Emergent, Symbolic, and Literate Communicators
Discover the supports and opportunities that the Communicator 5 software offers for each communication level. (60 minutes | 0.1 ASHA CEUs)

Positive Behavior Supports within Snap + Core First
Explore the primary reasons behind challenging behaviors and identify how Snap + Core First can help to prevent or replace these challenging behaviors. (60 minutes | 0.1 ASHA CEUs)

Reading Avenue: Paving the Way for Literacy Development
An overview of literacy instruction best practices and how to use Reading Avenue in the classroom. (60 minutes | 0.1 ASHA CEUs)

Sharing your activities in Boardmaker Online
Learn how to find, share and edit activities to support students using Boardmaker Online Community. (30 minutes | 0.05 ASHA CEUs)

Snap Scene™: Overview & Activities for All Ages
Learn how to use Snap Scene to create visual scene displays to support communication, language, and literacy skills for all age populations. (30 minutes | 0.05 ASHA CEUs)
Tips, Tricks and Techniques with Snap + Core First
Learn how Snap Core + First supports communication engagement, literacy and language growth. (60 minutes | 0.1 ASHA CEUs)

Tips for Quickly Creating Activities in Boardmaker
Learn 9 tips for quickly creating and finding activities in Boardmaker Online (30 minutes | 0.05 ASHA CEUs)

Understanding Aphasia
You will learn about the communication needs that exist, and strategies to support successful communication interactions with people who have aphasia. (30 minutes | 0.05 ASHA CEUs)